NW Cup #3 Race Report
Thursday June 26th 2014
Race Report: NW Cup #3 Skibowl, Mt. Hood
by Eric Ashley
Thank you Eric for a great photo roundup! For more of Eric's pictures go to www.ericashley.com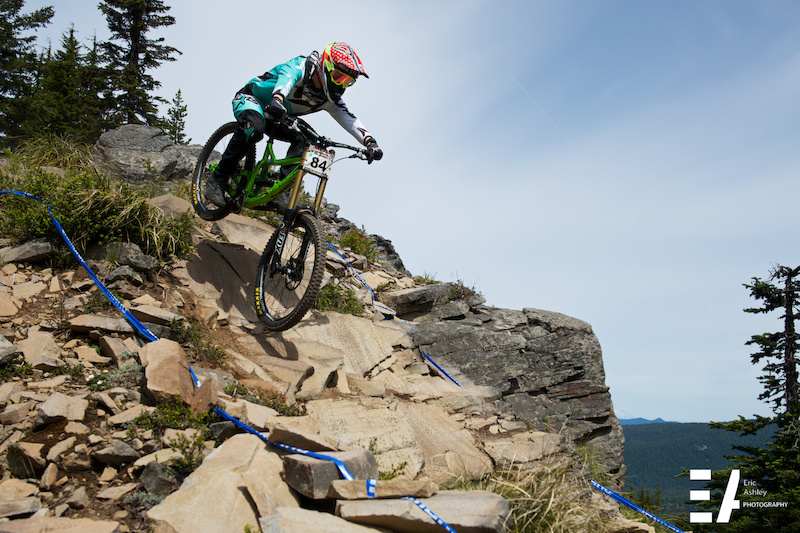 Kole Wetherell (Pro Men) skimming over jagged sheets of rock at the top of Skibowl.
Stop number three on the NW Cup brought racers to
Skibowl
at the base of picturesque Mt. Hood. Skibowl is a familiar stop for the NW Cup bringing dramatic views, fast descents, rooty forests, and rugged boulders. With plenty of sun and parking lot camping available for $5 a night, the days were primed for another great weekend of Northwest mountain bike races.

A still and peaceful mountain after practice on Friday night.
The majority of the top course consisted of Cannonball, a blisteringly fast double track that sweeps down the side of the Upper Bowl. Pro/Cat 1 racers would take a ridge-line route full of craggy steeps to get here, while Cat 2 racers pinned through a road of gravel and baby heads to the crest. From the junction Cat 3 racers would take a more mellow, albeit very loose, gravel road to the middle of the mountain where all three courses would briefly merge along the High Road. A fast pedal through the gravel would spit Cat 2/Cat 3 riders onto Upper Gnar Gnar for a section of sweeping berms, while the Pro/Cat 1 course headed into Arrow Trail, the granite bouldered heart of the course.

Fun riding whichever direction you head, but the views were certainly unequal.
Arrow Trail is packed full of boulders, tight squeezes, and a substantial rock drop to provoke and impede racers as they power through. While a few crashes and several close calls occurred beneath the gaze of the spectators/hecklers serious injury was avoided.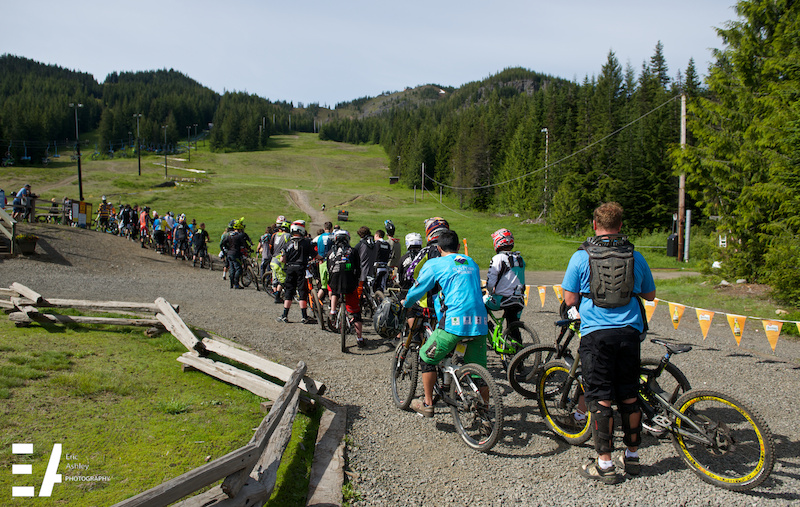 The inevitable traffic jam during the morning commute.
Out of the granite and into the close embrace of the aptly named Woods Trail. The Cat 2 course would follow into the forest to take advantage of the roots, ruts, and turns while the Cat 3 course continued through fern covered glades. Concluding with a fast pedal to the bottom and you have the recipe for an awesome weekend of mountain bike racing at the foot of Mt. Hood.
Stop number four of the NW Cup will head to
Silver Star
during the BC Cup event in July as part of this year's exchange between the two organizers.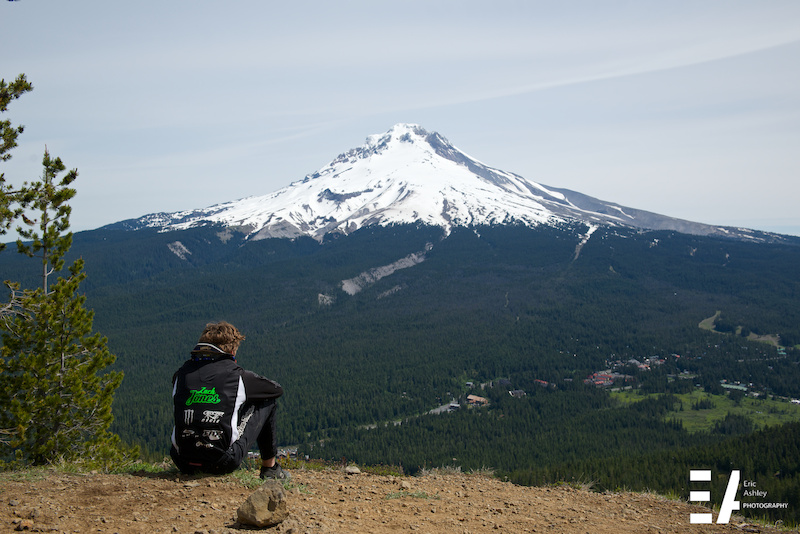 Waiting room with a view. Zach Jones (Cat 1 Men 0-18 ) meditates before the seeding runs on Sunday morning.
Sharp rocks slabs and steeps greeted Pro and Cat 1 riders along the Ridge Trail at the start of the course. Spencer Graf (Pro Men).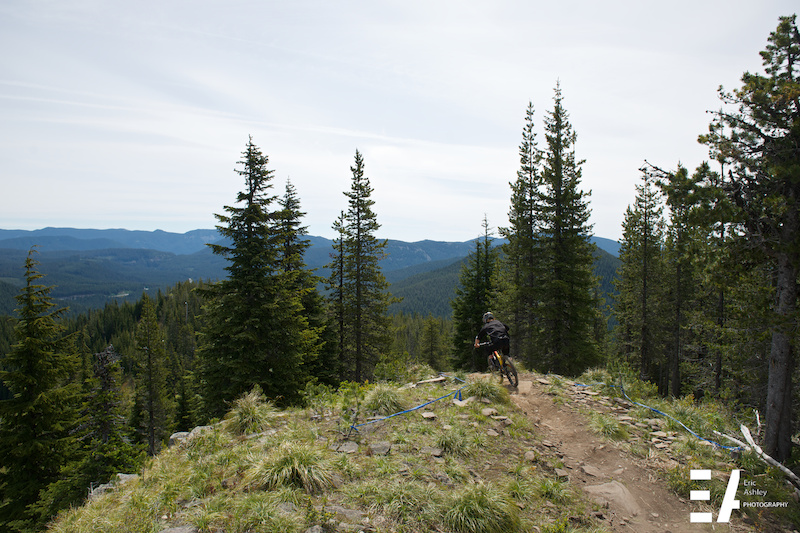 Jake Grob (Pro Men).
It's doubtful that any of the racers had time to admire the backdrop of Mt. Hood as they rushed past. Anthony Evans (Pro Men).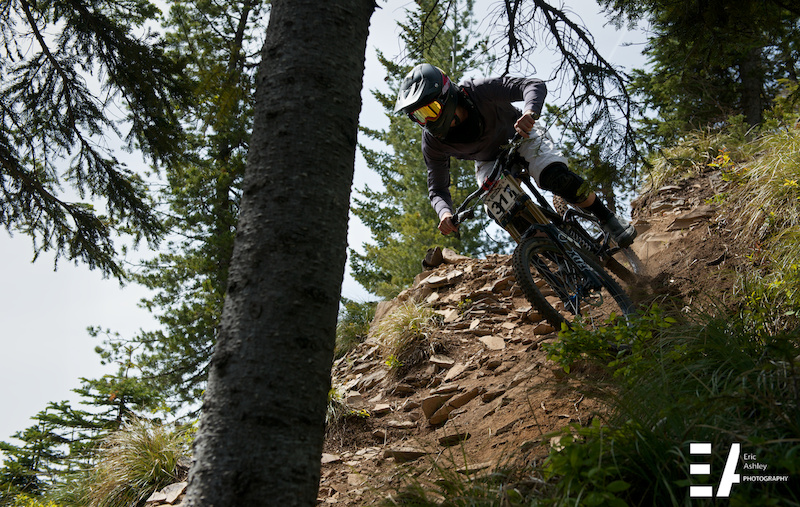 Nikolas Clarke (Pro men) charges the steep pitch that separates the Ridge Trail from Cannonball.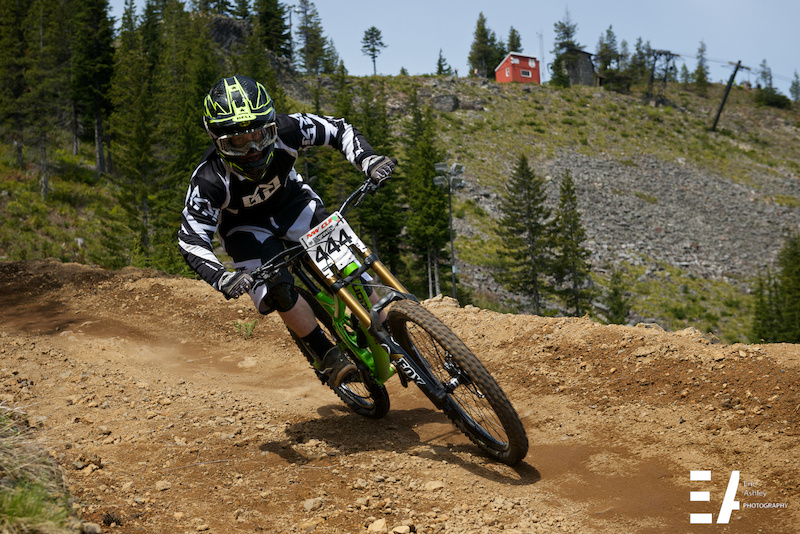 Corey Craig (Pro Men).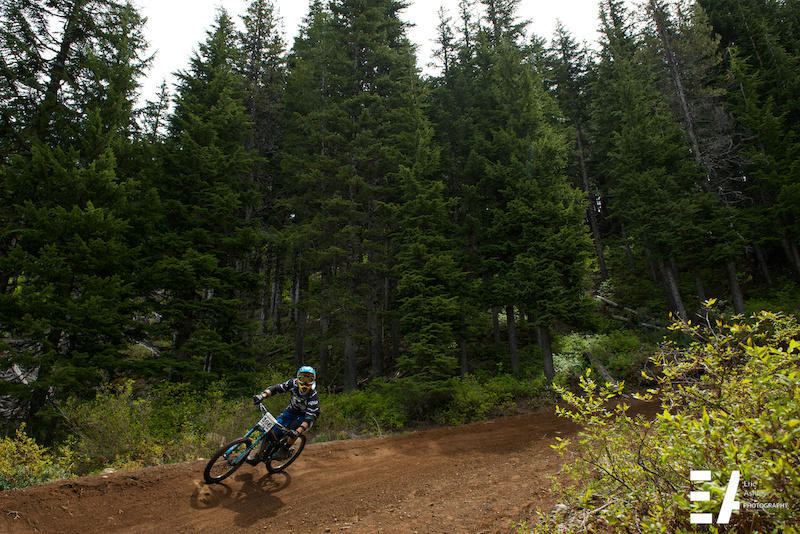 Cannonball was in top shape with large crisp berms. Luke Carrol (Cat 1 Men 0-18 ) during a practice run Saturday.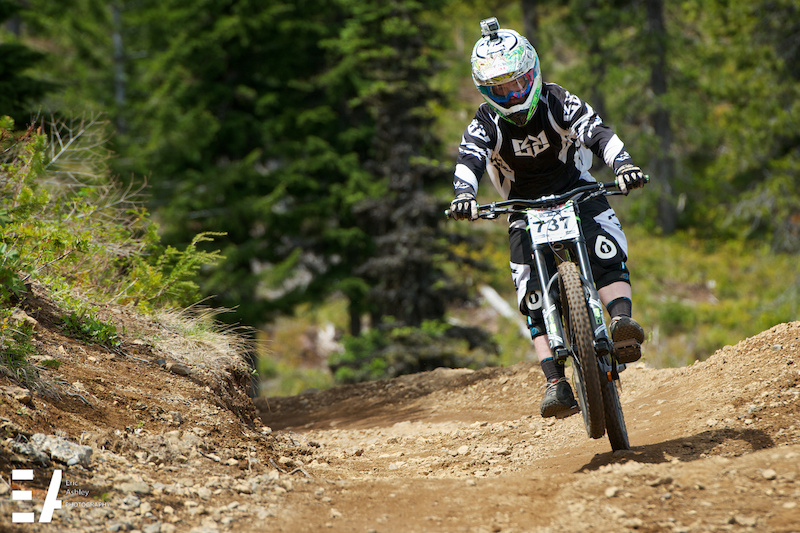 Cannonball gets right to business by throwing on the speed right out of turn one. Caleb Doane (Pro Men).
Fast riding all the way on Cannonball.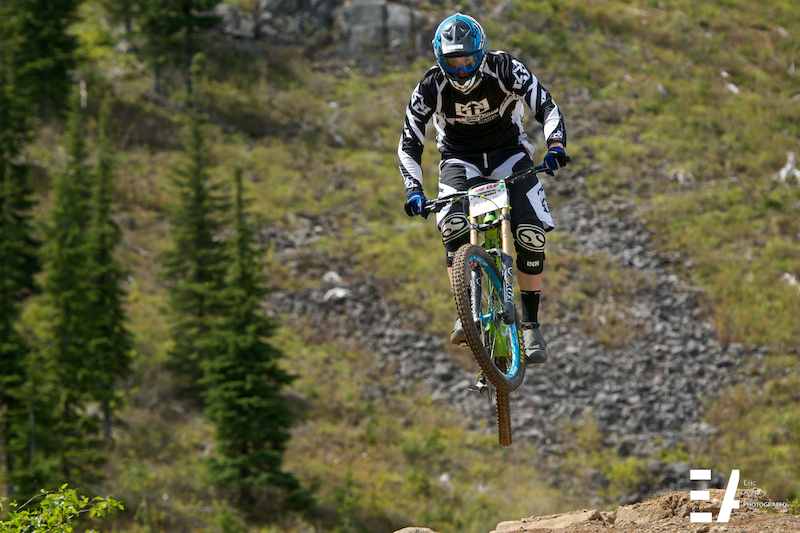 Joseph Rager II (Cat 1 Men 0-18 ).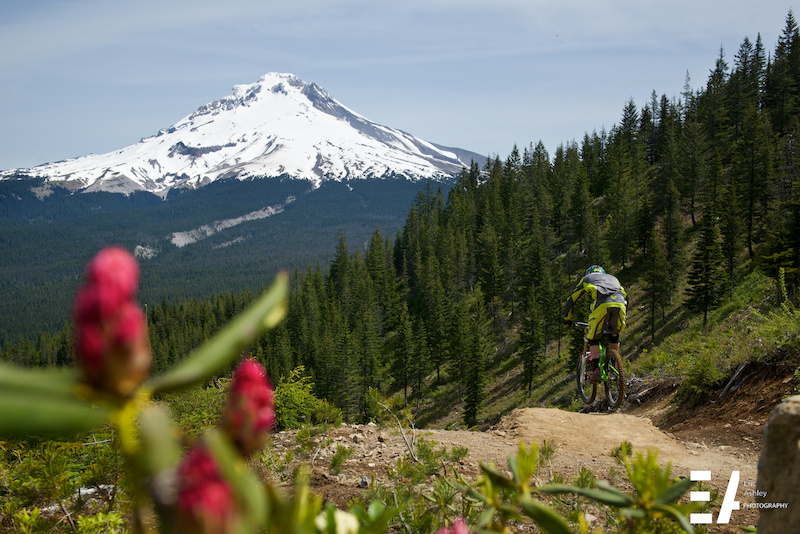 Matt Orlando (Pro Men) jumping through an idyllic alpine scene with all the trappings for a postcard.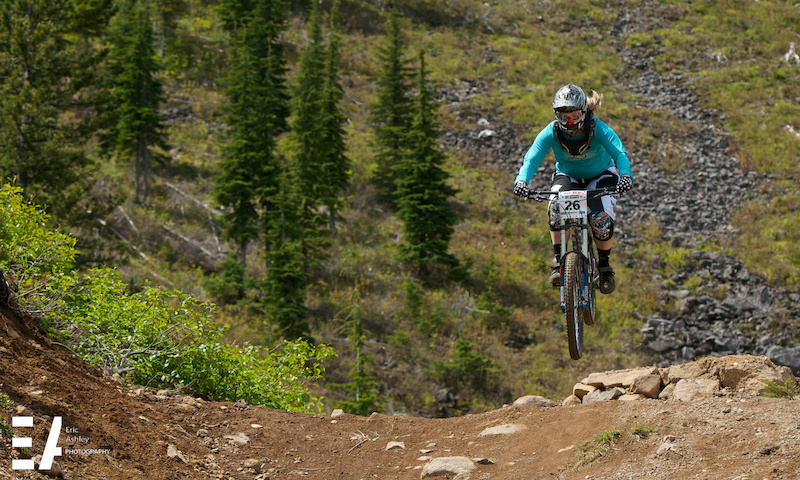 Jaime Rees (Pro Women) showing why she would be claiming podium number one at the end of the day.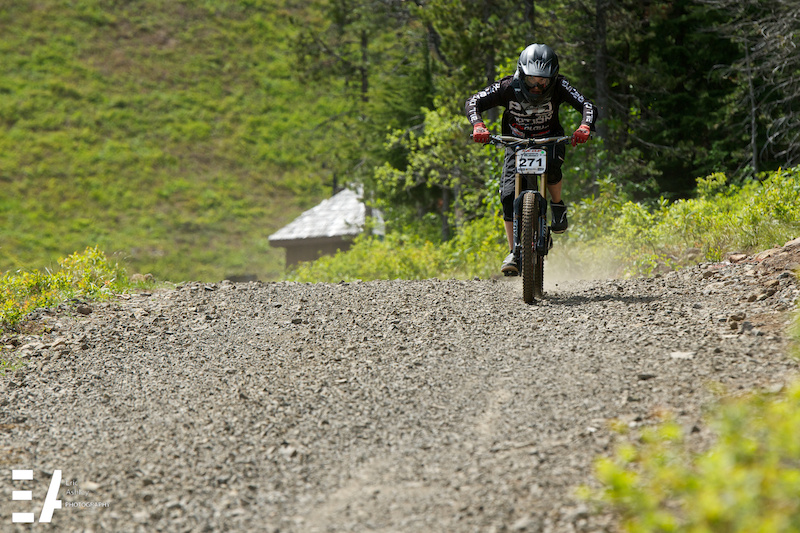 Not everything is singletrack. Trevor Altizer (Cat 1 Men 0-18 ) pedals through the gravel road transition.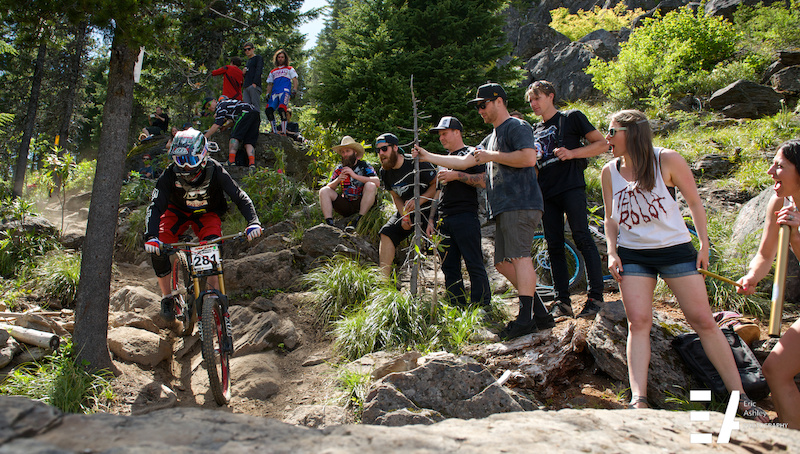 Alex Wynakos (Cat 1 Men 0-18 ) immune to the cheering and jeering.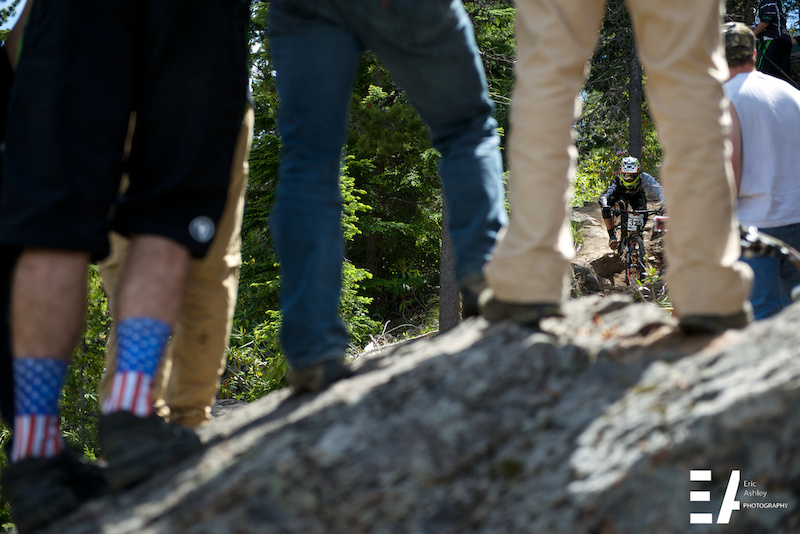 A view from the spectator boulders. Benjamin Vanveen (Cat 1 Men 0-1
.
Nathan Cheyne (Cat 1 Men 19-29) fights to maintain control on Arrow Trail.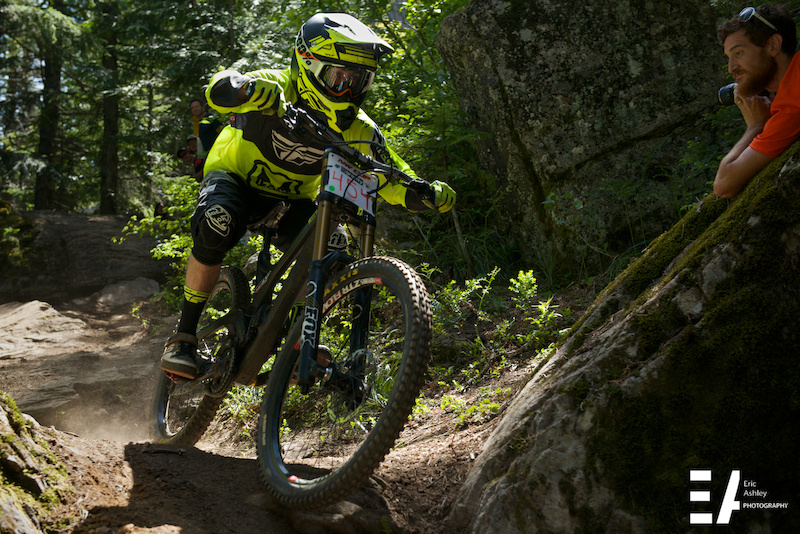 Course boulders seen doing double duty as rider obstacle and spectator barriers. Anthony Leonarduzz (Pro Men).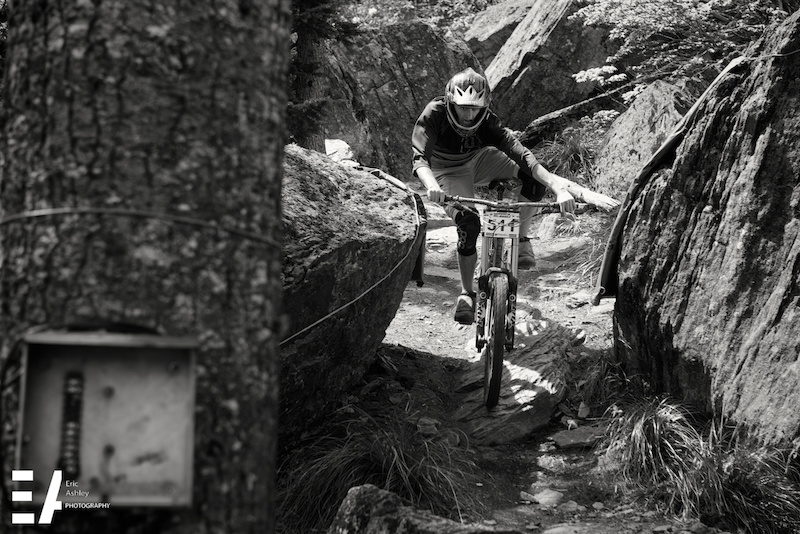 Nick Anzalon (Cat 1 Men 19-29) feeling the pinch of some good old Oregon granite.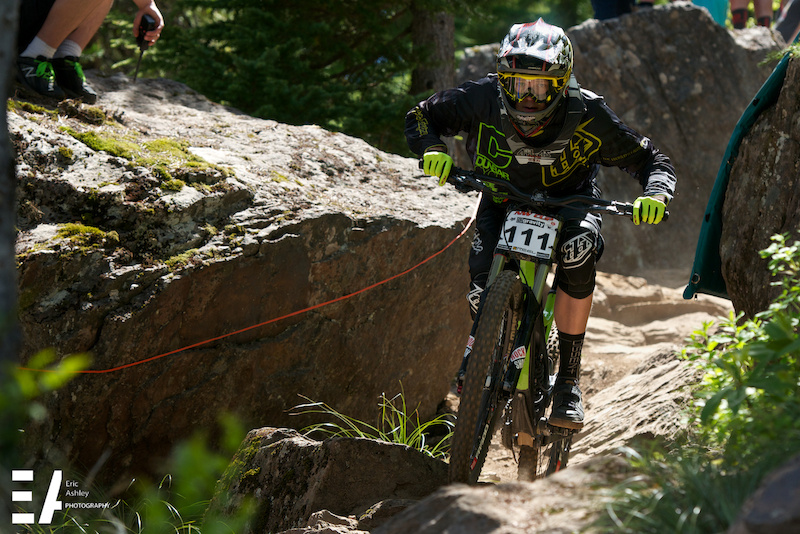 Nic Rodgers (Cat 1 Men 0-1
.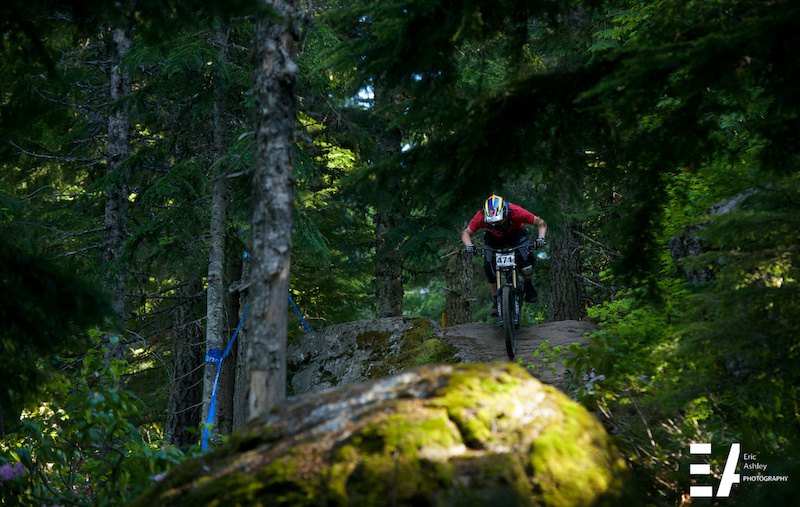 Practicing lines. William Flyod (Cat 1 Men 19-29) getting in a final practice run on Saturday.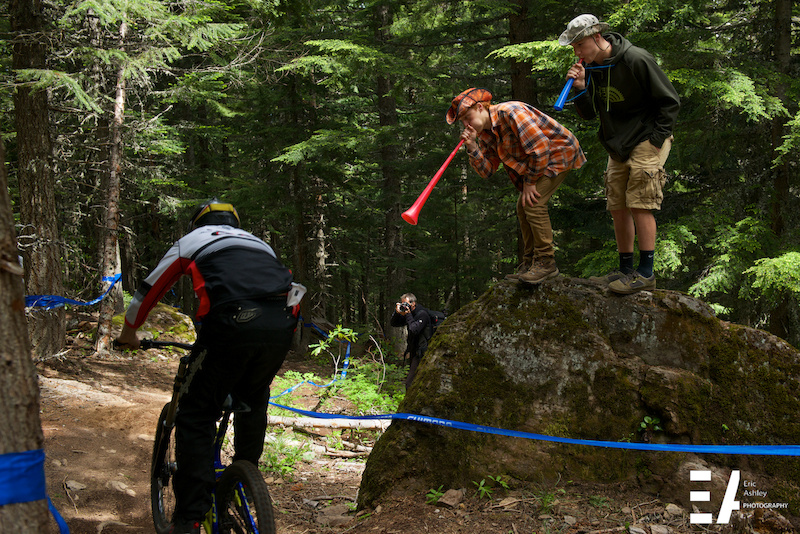 Spectators doing their part to speed racers on their way.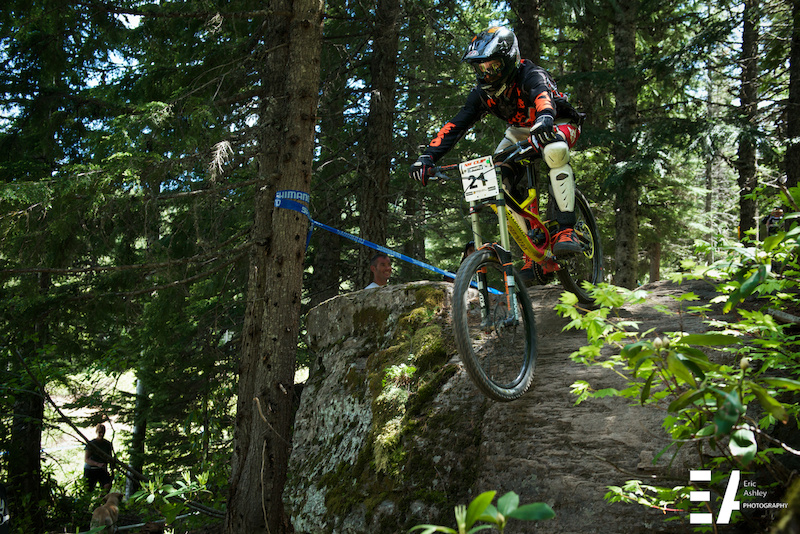 Bryan Crum (Pro Men) sports a, hard to see, large grin through Arrow Trail.
Nicholas Dumas (Cat 1 Men 30-39).
A patch of pristine loamy dirt between the roots and ruts. Andrew Vestl (Cat 1 Men 30-39).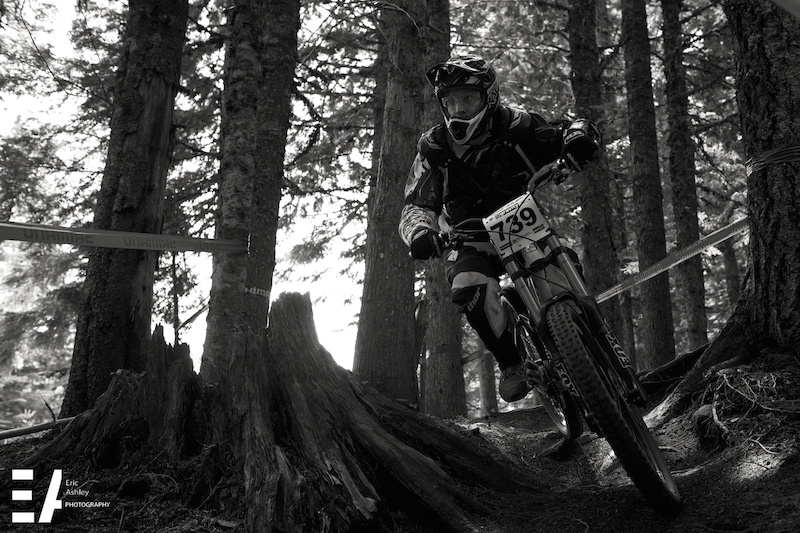 Into the woods, a racer starts in on the bottom half of the course.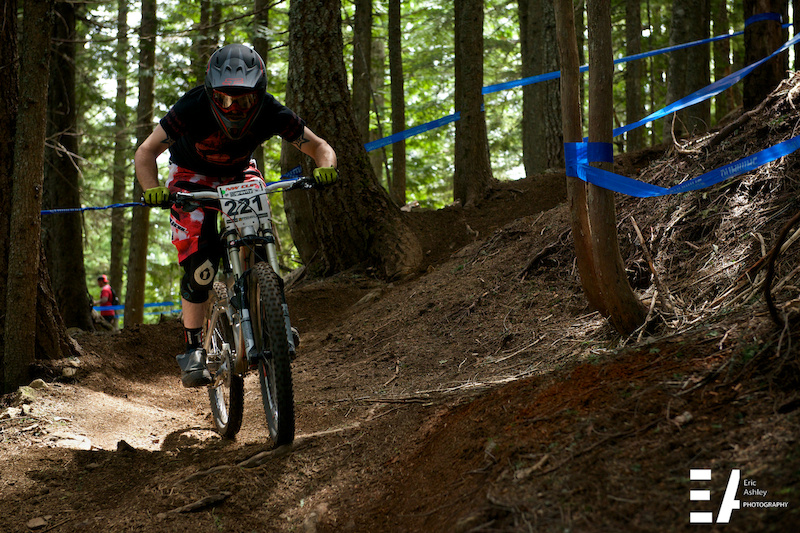 Austin Larson (Cat 1 Men 30-39).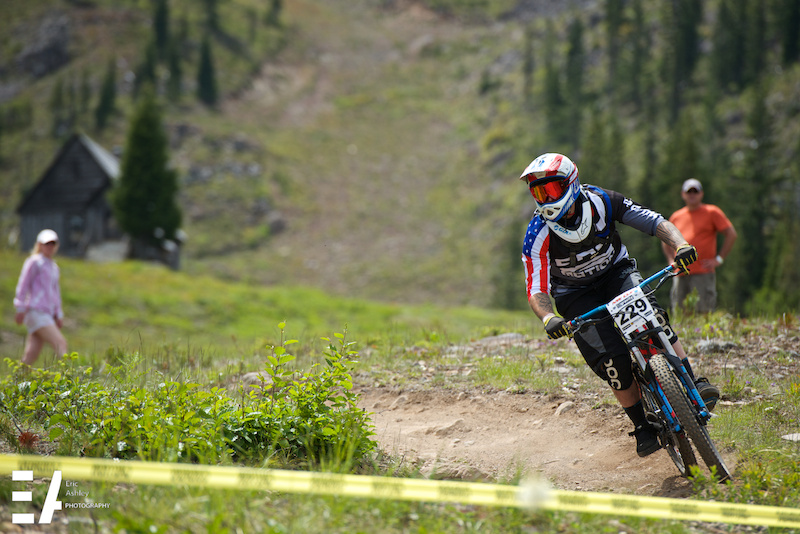 Jeff Scherer (Cat 2 Men 30-39) provides some entertainment for the alpine resort crowd.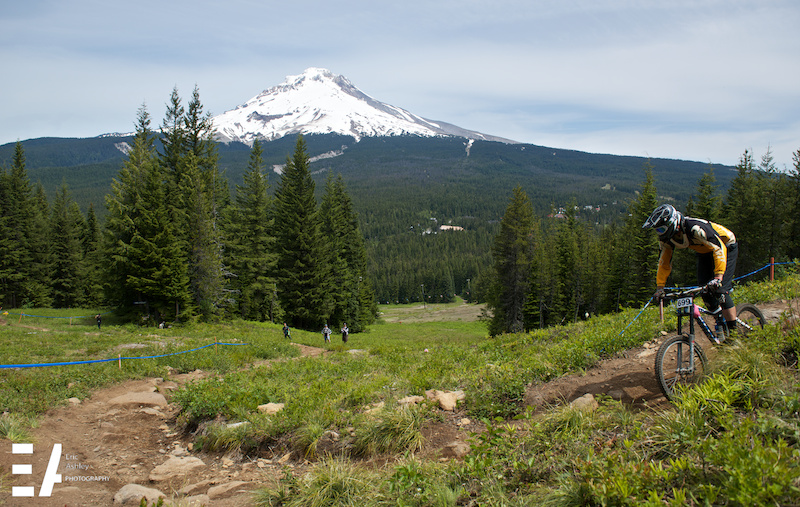 Taking a spin through Gnar Gnar. Tim Smith (Cat 2 Men 19-29).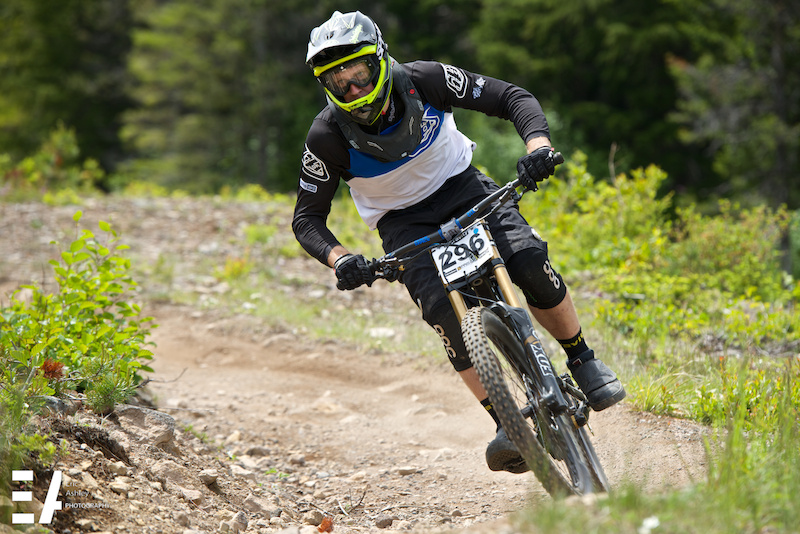 Brian Gisle (Cat 2 Men 30-39).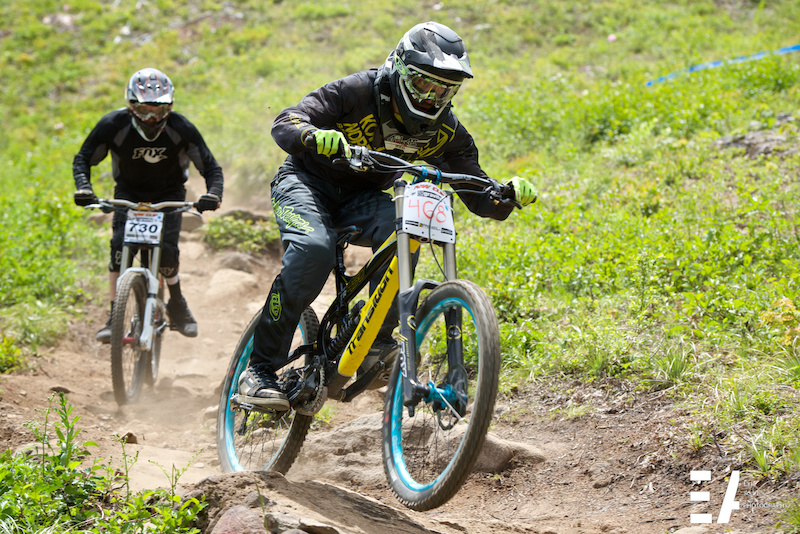 Derek Gener pulls away after taking over John Davis on Gnar Gnar (Cat 2 Men 19-29).
Jared Watson (Cat 2 Men 19-29) goes down after his front tire strayed a little ways from the trail.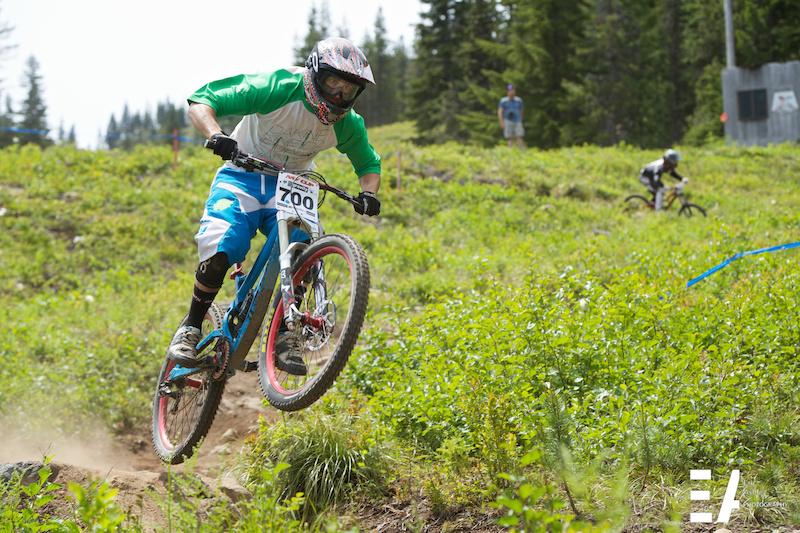 Getting air off a small section of jumps on Gnar Gnar.
Matthew Pullen (Cat 3 Men 19-39) demonstrates the dance of his people through the ferns and glades of Mt. Hood.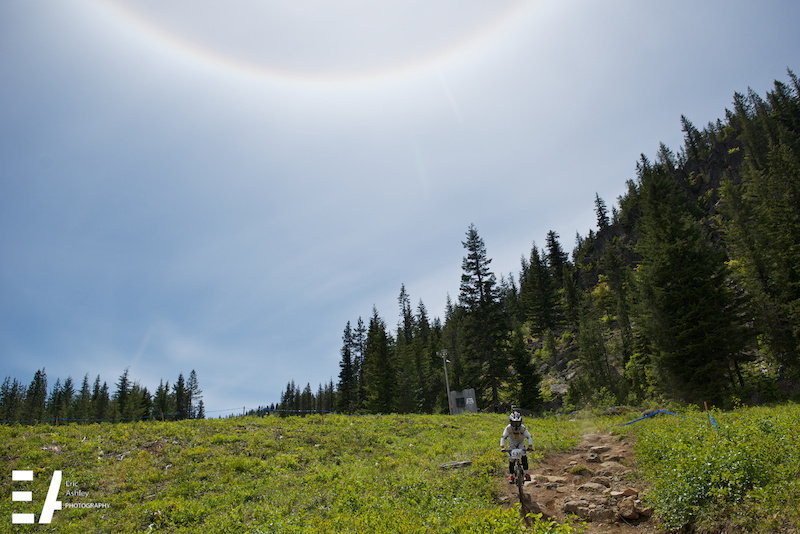 Michael Buckley (Cat 2 Men 0-14) riding beneath a sun halo that floated over the course most of the day.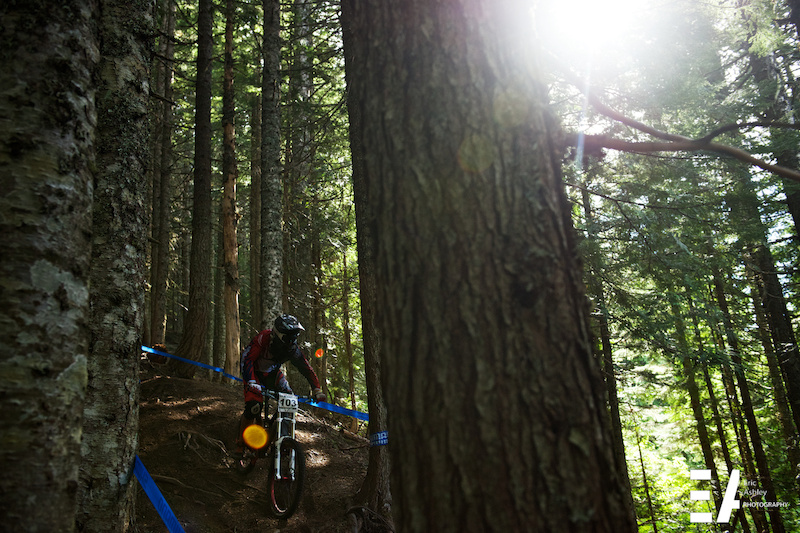 Three thing you need for an excellent run: trees, dirt, and sun. Zach Seivy (Cat 1 Men 0-18 ) putting in the practice runs on Saturday.
Catching air and an errant beam of light through the Cat 1/Pro course.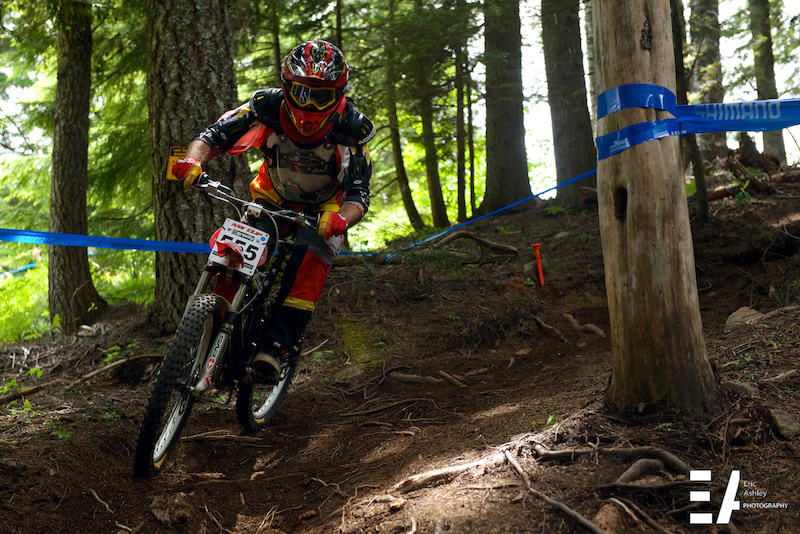 Bill Kieffer (Cat 2 Men 50+) riding for a 2nd place win in his category.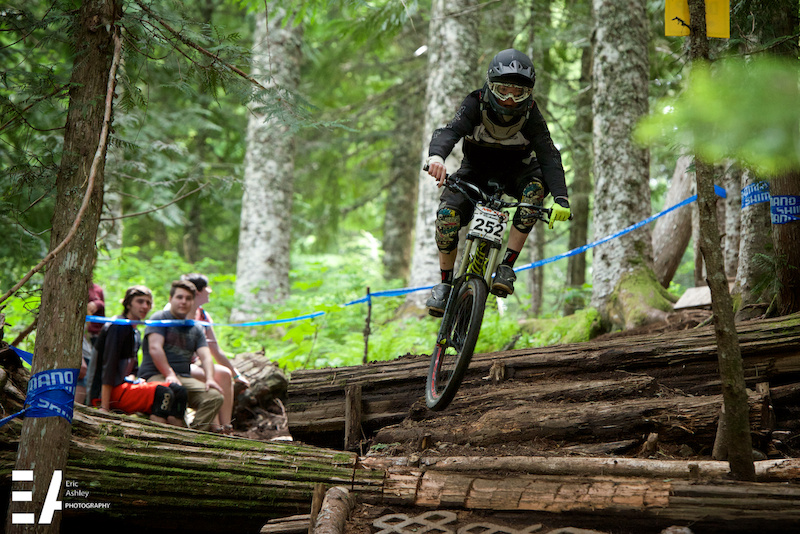 Harry Head (Cat 2 Men 15-18 ) nicely clearing the precarious log drop.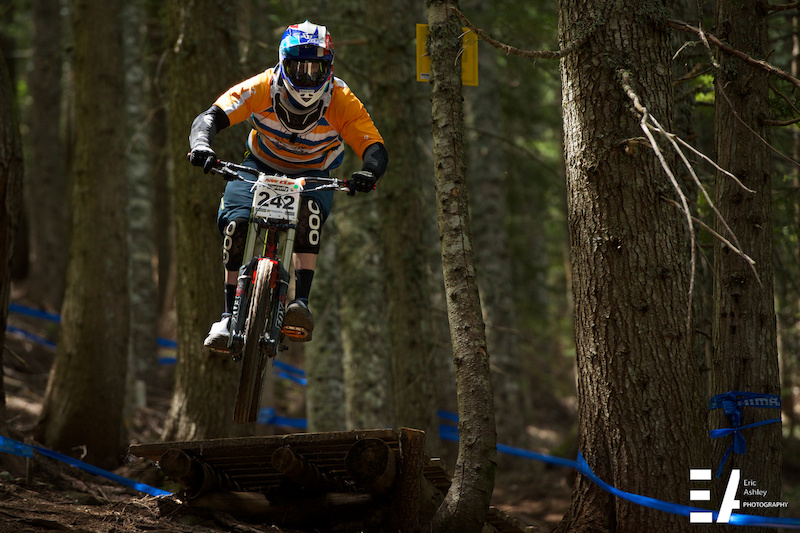 Jason Queen (Cat 1 Men 40+) airing through the Cat 1/Pro course.
Pro Men (1st-3rd) Bryn Atkinson, Luke Strobel, Sid Slotegraaf plus (4th-10th).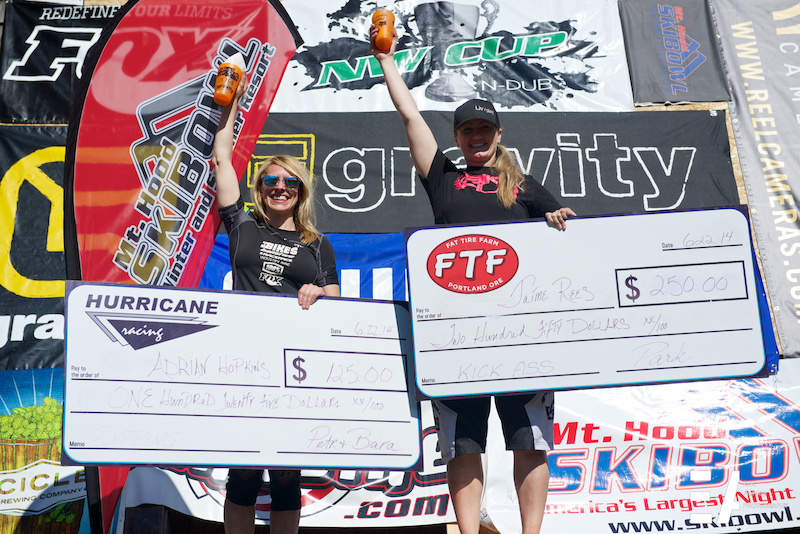 (1st-2nd) Jaime Rees & Adrian Hopkins (Pro Women).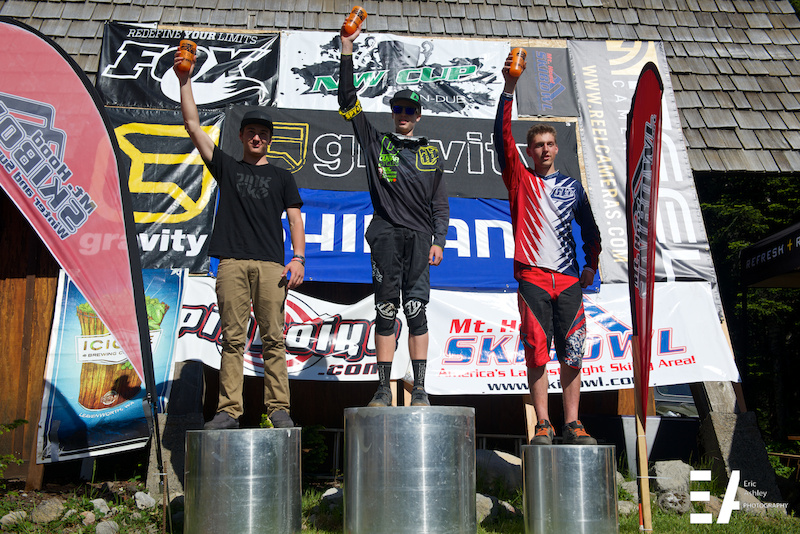 (1st-3rd) Nic Rodgers, Louis Mollet, & Zach Sedivy (Cat 1 Men 0-10).
See you next year!